The Yacht is an uncontrollable vehicle in Grand Theft Auto: Vice City, The Ballad of Gay Tony, Grand Theft Auto V and Grand Theft Auto Online.
Appearances
Grand Theft Auto: Vice City
The Yacht is owned by Juan Cortez, and is featured in all the missions Tommy Vercetti does for him. In the mission All Hands On Deck, Tommy must defend the boat from the attacking GIGN and DGSE agents. You can enter the Yacht using a helicopter: land it next to the boat and then jump aboard it.
The Ballad of Gay Tony

The yacht appearing in TBoGT is owned by criminal Frickie Van Hardenburg. During the events of the game Luis Fernando Lopez is ordered by Yusuf Amir to steal the Buzzard helicopter off the boat and destroy it. This time, the Yacht is larger and has a helipad. Unlike in GTA: Vice City, you can now enter it.
The boat can be driven with the use of mods, and it makes a cameo in GTA V in the movie Meltdown.
Grand Theft Auto V/Online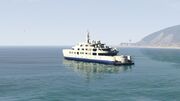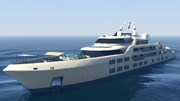 Michael De Santa is told by Jimmy that Tracey is hanging out with porn actors on a yacht named the Dignity and goes to stop them, then takes Tracey back to shore.
In Grand Theft Auto Online, the Dignity reappears as the location of a heist preparation mission, being owned by the Vagos. It also appears as a location for the Slasher Adversary Mode on the enhanced version.
Also in GTA Online after the Executives and Other Criminals update (enhanced version only) is the Galaxy Super Yacht, which can be purchased by the GTA Online Protagonist, functions as a safehouse, and comes with several other vehicles.
Prominent Appearances in Missions
Grand Theft Auto: Vice City
The Ballad of Gay Tony
Grand Theft Auto V
Grand Theft Auto Online