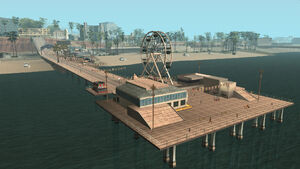 Yacht Harbor is a pier and pedestrian mall featured in Grand Theft Auto: San Andreas, located in the heart of Santa Maria Beach in Los Santos, San Andreas. It provides recreational opportunities to locals and tourists, and is the final destination of the missions High Stakes, Low Rider and Snail Trail in Grand Theft Auto: San Andreas.
It is modeled after the Santa Monica Pier, in western Los Angeles. The entrance sign (which bears the words Yacht Harbor) is also strikingly similar to that of the real life Pier.
Events of GTA San Andreas
After participating in a lowrider rhythm contest, Cesar Vialpando invites Carl Johnson to participate in yet another lowrider event, this time a street race. Here CJ races through the western portion of Los Santos. He beat the other participants to the finish line in Yacht Harbor, thus winning a prize of $1,000.
Later, after arriving in San Fierro to find the "prize" he won in a street race to be nothing more than an abandoned garage in the city's industrial district, Carl has his work cut out for him. As he begins developing his entrepreneurial skills in this new city, Carl receives a rather unwelcome (but not entirely unexpected) visit from C.R.A.S.H. officers Frank Tenpenny and Eddie Pulaski, who have been monitoring Carl's movements and forcing him to do their dirty work ever since his exile from Los Santos.
This time is no different: During the mission Snail Trail, Pulaski, whose corruption has become all too obvious to a witness threatening to speak to the press, demands that Carl follow and kill both the witness and the reporter he is meeting. As the witness leaves by train from San Fierro's Cranberry Station, Carl follows close behind, all the way to Market Station in western Los Santos. From here, Carl stealthfuly trails the witness, who hails a Taxi and rides through the streets of the Marina and Rodeo districts, until finally stopping at Yacht Harbor. Here, Carl takes his opportunity, and kills both the witness and the newspaper reporter he is meeting while they talk at the end of the pier.
Businesses
Weapons
Grenades - Near the Pizza stand on the east side
Other
Gallery
See Also