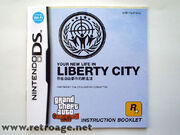 Your New Life in Liberty City is a booklet that comes with Grand Theft Auto: Chinatown Wars for the Nintendo DS. It shows the controls, safehouses, PDA, weapons, side missions, multiplayer mode, co-op mode, social club, as well as some funny advertisements, such as:
LCPD recruitment (like shooting guns? Wanna be a hero?)
Liberty City Locksmith (Keep your home safe from the rest of Liberty City!)
Beautiful Asian Body Work (hourly rate/out call only. Call Ling now for good time.)
Love-Meet.net - Get online today and find other lonely people just like you (only better looking)!
Ad blocker interference detected!
Wikia is a free-to-use site that makes money from advertising. We have a modified experience for viewers using ad blockers

Wikia is not accessible if you've made further modifications. Remove the custom ad blocker rule(s) and the page will load as expected.