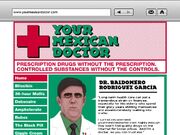 yourmexicandoctor.com is a website in Grand Theft Auto IV. The site sells drugs cheaper than what the suppliers normally price them at, and in the case of Giggle Cream, illegal. The player cannot purchase anything from the website. Many times online, Niko receives spam from Yourmexicandoctor.com. Two of the drugs debuted in Rockstar North's Manhunt 2.
Products
Ad blocker interference detected!
Wikia is a free-to-use site that makes money from advertising. We have a modified experience for viewers using ad blockers

Wikia is not accessible if you've made further modifications. Remove the custom ad blocker rule(s) and the page will load as expected.