The Yucca Motel is a defunct motel in Grand Theft Auto V.
Description
The site is located directly opposite the Harmony Fuel Depot on Joshua Road in the Grand Senora Desert at the western end of Sandy Shores on the other side of the Zancudo River from Stab City. 
An old neon sign facing east on Joshua Road is all that indicates the motel existed. There is a small parking lot with the remains of a solid timber wall/fence. There are four lampposts still connected to the power and these automatically turn on at night to illuminate the parking lot area. There are no other signs of any building remains on the site. Looking at the area, it is possible the site extended through to the cul-de-sac at the end of Marina Drive where there are similar timber wall remnants however a walking track now extends through the site from Marina Drive to the bridge over the Zancudo River with park bench seats available along the path.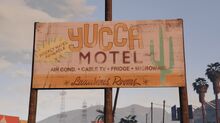 There is a billboard, located in the Grand Senora Desert, in between the Yellow Jack Inn and Sandy Shores Airfield that advertises the Yucca Motel.   
It states that when it was active it had air conditioning, cable TV, a fridge and a microwave. The nature of advertising what is now commonplace, along with the near-nonexistent structure of the motel, suggests that it was established several decades before the events of the main game and deteriorated over time.      
Gallery
Trivia
The name comes from a type of shrub, called the Yucca, known for its pointed leaves and white pillar-like columns of flowers. It grows in the south-western United States (where the state of San Andreas is located) and has many species, with a couple of them being in-game in the form of a Joshua Tree among others.