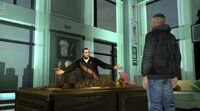 Yusuf's Penthouse is a location in Liberty City, featured prominently during The Ballad of Gay Tony.
Description
The penthouse is the luxury residence of Arabian billionaire real estate developer Yusuf Amir, located on the corner of Pyrite Street and Columbus Avenue in Middle Park East. The penthouse is two stories tall and it is heavily decorated with film and sports memorabilia, as well as several weapons and arcade games. There is also a segway seen in a corner.
It is from this location that Amir gives most of his missions to Luis Lopez.
Mission Appearances
Trivia
Ad blocker interference detected!
Wikia is a free-to-use site that makes money from advertising. We have a modified experience for viewers using ad blockers

Wikia is not accessible if you've made further modifications. Remove the custom ad blocker rule(s) and the page will load as expected.