The ZR-350 is a two-door sports car featured in Grand Theft Auto: San Andreas.
Overview
Design
The ZR-350 is based on the 1992-2002 Mazda RX-7 but it is scaled much longer and bears the taillights of a 1992-1996 Nissan Silvia S14, only much bigger. It is the only car in GTA San Andreas with pop-up headlights that automatically appear during darkness. It also features "ZR-350" on the rear lights.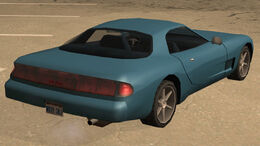 The name could be a reference to the 1990–1995 Corvette ZR-1 which had a 350 cu in engine (it should also be noted that the elongated front can be mistaken for a C5 Corvette). The name of the ZR-350 may also be a reference to the Nissan 350Z, stating that the car has a 3.5L engine. The name may also suggest that car has a 350hp engine.
There are two versions of this car; one with a rear-spoiler and one without a spoiler.
Performance
The ZR-350 most likely features a 3.5 litre engine (likely a V6), hence the name despite it being a Mazda and not having a Rotary engine, in an FR drivetrain layout and has a good top speed and acceleration. However, it has poor handling when driving at high speeds as it usually drifts at high speeds at approximately 70-100 mph. It is also damage-resistant, and slow collisions do not affect the vehicle that much.
Modifications
The ZR-350 can be modified at TransFender. Modifications include:
Type
Upgrade
Cost
Color
Car Color 1 (64 different colors)
$ 150
Exhausts
Large Exhaust
$ 250
Medium Exhaust
$ 200
Twin Exhaust
$ 300
Upswept Exhaust
$ 400
Nitro
2x Nitrous
$ 200
5x Nitrous
$ 500
10x Nitrous
$ 1000
Roof
Roof Scoop
$ 80
Side skirts
Side Skirt
$ 500
Wheels
Access
$ 1140
Ahab
$ 1000
Atomic
$ 770
Grove
$ 1230
Import
$ 820
Mega
$ 1030
Off Road Wheel
$ 1000
Twist
$ 1200
Virtual
$ 620
Wires
$ 1560
Hydraulics
Hydraulics
$ 1500
Prominent appearances
Locations
Trivia